Organic Initiatives:
M. A. Battiste Award for Creative Work in Synthetic Organic Chemistry
Tarrant Distinguished Visiting Professorship in Organic Chemistry
Tarrant Summer Graduate Research Scholarship
W. M. Jones Award for Originality and Creativity
---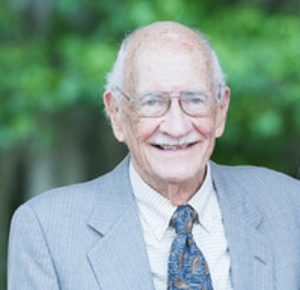 Award Background
The award was endowed in honor of Prof. William (Bill) M. Jones (1930–2022). Recognizing that a primary goal of any Ph.D. program is to train creative problem solvers, Bill requested the award recognize graduate students who prepare and defend the most creative independent research proposals.
Important early contributions to this fund were made by Prof. Jones's colleagues, former doctoral students, and alumni of the Department of Chemistry. Included was a large establishing $5K donation by Union Carbide, spearheaded by Dr. Nick Conti (Ph.D. with Prof. Jones, 1987) who was a senior chemist in the polyolefins division at the time.
Prof. Jones obtained his B.S. degree (1951) from Union University (Jackson, TN) and an M.S. degree (1953) from the University of Georgia. He obtained a Ph.D. from the University of Southern California in 1955, and was a faculty member at the University of Florida from 1956–1996. Over the course of his career, Bill graduated more than 40 PhD students and in 1989 was named the UF Teacher/Scholar of the year, the highest honor bestowed upon a faculty member at UF. Prof. Jones performed research in physical organic, organometallic, and carbene chemistry. He served as Chair of the Department for 5 years (1968–1973) and was also highly regarded for his dedication to undergraduate teaching. He was most proud of his service on the Title IX committee in the 80's and 90's which was instrumental in the development of women's sports programs at UF.
Award Winners
Devin Ketelboeter
2022
Subhradeep Dutta
2021
Lily Diodati
2021
Kendall Weeks
2020
Will Henderson
2019
Jacob Lessard
2019
Edward Laguna
2018
Georg Scheutz
2018
Ouidad Lahtigui
2017
Christopher Kabb
2016
Lindsey DeRatt
2015
Barry Butler
2014
Justin Goodwin
2013
Flavio Cardoso
2012
Davit Jishkariani
2011
Matthew Baker
2010
John Ketcham
2010
Berenger Biannic
2009
Dimitri Hirsch-Weil
2008
Julia Keller
2006
Sarah Lane
2005
Janice Young
2002
Ksenija Glusac
2001
Bernhard Paul
2000
Keith Walters
1998
Jennifer Lombardi
1998
David Gonzalez
1998
Karen E. Torraca
1997
Patricia Bottari
1996
Eligibility and Terms of The Award
Any graduate student who is a member in good standing and qualifying in the Divisions of ORGANIC CHEMISTRY, INORGANIC CHEMISTRY, or BIOCHEMISTRY may submit an original proposal for this competition before the completion of their third full year of study (36 months after arrival at UF). An eligible student may submit one entry per year; subsequent submissions must differ significantly.
The student will receive a monetary award and a plaque at the annual fall departmental meeting. In addition, the student's name will be engraved on a larger plaque that lists past awardees; this plaque is located in Sisler 340.
Application Information and Selection Criteria
The members of Supervisory Committees and/or the students' research advisors may, and should, encourage students to enter the competition. No formal nomination is necessary.
The student will submit a 1–2 page proposal to the current Chair of the committee BEFORE the close of business on the day specified (usually in May) to be considered for the current round. Entries will be accepted at any time of the year, so long as the student has not yet completed the third full year of study at the time of submission. The proposal must be UNRELATED to the student's thesis research project; however, a student may submit an independent research proposal that is required by divisional qualifying requirements. A brief letter or a note from the student's advisor attesting to the originality of the submitted document is also required. Nominations received after the cut-off date will be considered the following year.
A Committee will evaluate the proposals and select no more than five (5) finalists, who will be invited to present their ideas orally before a divisional audience of faculty and students. The presentations will be 10 minutes in length.
The Committee will select the best candidate for the annual award or, under special circumstances, split the award between two winners. The selection is done by a closed vote and a 5-point system of evaluation of three criteria: originality and impact of the idea, quality and clarity of the document, and quality and format of the presentation. The decisions of the committee are final and not subject to appeal.