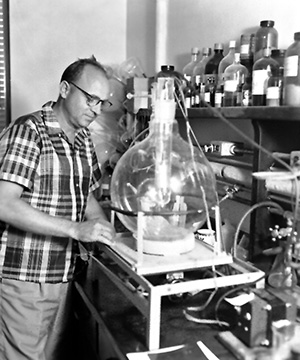 Organic Division Initiatives:
M. A. Battiste Award for Creative Work in Synthetic Organic Chemistry
Tarrant Distinguished Visiting Professorship in Organic Chemistry
Tarrant Summer Graduate Research Fellowship
W. M. Jones Award for Originality and Creativity
Background
The Tarrant Summer Graduate Research Fellowship is supported through the Tarrant endowment, created by University of Florida Professor Emeritus Paul Tarrant to honor the memory of his beloved wives, Viola and Marian. Paul graduated from Duke University (Ph.D.), Purdue (M.S.), and Howard College (B.S.) and started his career at UF in 1946. He is credited with the first "sponsored" research program at UF (1948) and was the first Chair of the American Chemical Society (ACS) Division of Fluorine Chemistry. In 1966, he received the Florida Award of the Florida Section of the ACS, which recognizes leadership and contributions toward the advancement of the profession of chemistry. He retired in 1980 after 34 years of service to the University of Florida.
Award Winners
2023
Tianqi Gao
Chieh-Yu Chang
Ian Germaine
Dillon Rickertsen
James Young
2022
Alec Esper
Cory Kornman
Angie Korpusik
Michael Mannchen
2021
Amanda Franceschini Ghilardi
Shengkang Yin
Jo-Chi Yu
2020
Christopher Brewer
Will Henderson
Zhihui Miao
2019
Ehsan Fereyduni
Jacob Lessard
2018
Ouidad Lahtigui
Xiaoming Su
2017
Danielle Fagnani
C. Adrian Figg
2016
Mukesh Pappoppula
Zuxiao Zhang
Eligibility and Terms of the Award
The Tarrant Summer Graduate Research Fellowship is a full summer research fellowship available to post-qualifying Organic Division graduate students as well as post-qualifying graduate students of Organic Division faculty members. The fellowship will include a $500 travel stipend to an approved conference in the summer of or academic year following the award period. The recipient(s) will be selected based primarily on research accomplishments and research potential, but leadership/service and academic record will also be considered.
Students already holding a fellowship/scholarship (GSF, NSF, etc.) that would support them as an RA in Summer C are ineligible to receive a Tarrant Summer Graduate Research Fellowship. Students who previously received a Tarrant Summer Graduate Research Fellowship are not eligible to apply.
Application Information and Selection Criteria
A complete application packet includes:
A two-page dissertation research summary that includes a brief statement of work to be completed during the fellowship period.
A current CV (which should include a list of publications/presentations, any honors/awards, current GPA, and evidence of leadership/service).
A letter from the research advisor.
The application must be received by the Division Head by 5:00 pm on the day specified as a single PDF document. The advisor letter can be submitted separately, but must be received by the deadline. Award decisions will be made in early April.