Organic Division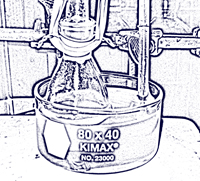 Menu:
About Us | Faculty & Staff | Student FAQs | Travel Support & Initiatives | Polymer Chemistry Program
Organic Awards:
M. A. Battiste Award for Creative Work in Synthetic Organic Chemistry
Tarrant Distinguished Visiting Professorship of Organic Chemistry
Tarrant Summer Graduate Research Scholarship
W. M. Jones Award for Originality and Creativity
Contact Information:
Sisler Hall Room 429
PO Box 117200
Gainesville , Florida 32611-7200
Phone: (352) 392-0552
Fax: (352) 846-0296
Division Head
About the Division:
Recipients of graduate degrees in the area of Organic Chemistry from the University of Florida receive extensive training in modern synthetic, mechanistic, physical and materials aspects of the field. Students working with groups in the Organic Division have the opportunity to carry out cutting edge research in modern Organic Chemistry. Strengths in the program include the development of modern synthetic methodology, heterocyclic synthesis, organofluorine chemistry, organometallic chemistry, molecular recognition, photochemistry, and polymer and materials organic chemistry. Graduates of the program are well-trained for positions in academia, government and industrial laboratories.
Faculty & Staff