Charles Cao and research team identify the possibilities of interconnected nanocrystal networks in future design applications
By Lauren Barnett — August 18, 2022
A clear understanding of the stability of atomic-level structures of materials is critical for technological advancements, yet many aspects of these tiny assemblies remain a mystery to scientists. In a discovery that could pave the way for more innovative technological design, University of Florida chemistry professor CHARLES CAO worked with a team of researchers to illuminate new characteristics of nanocrystals.
Nanocrystals, tiny crystalline particles with a size in the nanometer range, have already found their way into our daily lives in a variety of electronics. The research team's new findings, published in the premier global science journal Science, will take their potential even further. The study highlights interconnected nanocrystal networks as a new form of matter capable of holding an intermediate — or "metastable" — energy level in standard laboratory conditions. This metastable state allows for the construction of functional materials with new design opportunities, ranging from semiconductors and catalysts to super-hard materials and quantum materials.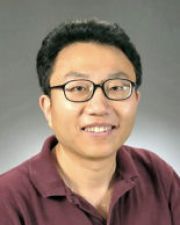 Although minuscule in size, nanocrystals gain power in numbers — scientists strive to create extensive, interconnected superstructures due to their potential to enhance new materials. As the nanocrystal superstructures hold metastable states, where atoms remain in an "excited" state for an extended period, they offer the potential for enhanced technological designs. "Metastability is an intrinsic kinetic property of all matter systems," Cao said. "Our research addresses a fundamental question in materials sciences: how is metastability controlled in materials construction?"
Cao and his colleagues conducted the study with support from the National Science Foundation and special funds from UF's College of Liberal Arts and Sciences. Working with a team a UF post-doctoral and graduate researchers from the Cao Research Group, as well as Zhongwu Wang from Cornell University, Cao designed and supervised the project, analyzed the data and participated in simulations.