Analytical Chemistry Lab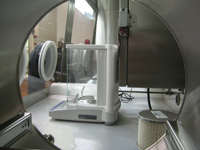 CHM3120L begins the second week of classes, after drop/add.
Please visit the Canvas e-learning website for the course to find the syllabus, first lab handout, and introduction to the course. If you have questions, please contact:
Dr. Ben Smith
264 Keene-Flint Annex
(352) 392-0256
bwsmith@ufl.edu
Analytical Chemistry Demonstration Videos
The following videos require Microsoft's Windows Media Player and will download to your hard drive.
---