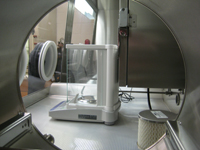 CHM3120L begins the second week of classes, after drop/add.
CHM4130L begins the first full week of class, before drop/add.
Please visit the Canvas e-learning website for the course to find the syllabus, first lab handout, and introduction to the course. If you have questions, please contact:
Alexander Jacobs
202A Leigh Hall
(352) 392-0528
jacobsa@chem.ufl.edu
Analytical Chemistry Demonstration Videos
The following videos require Microsoft's Windows Media Player and will download to your hard drive.
---