[ Joseph Hernandez Hall Dedication Photo Gallery ] [ Video: Chemistry Fun with President Fuchs ] [ Video: Interview With Joseph Hernandez ]
New chemistry building opens its doors

April 21, 2017
by Gigi Marino
photography: Betsey Hansen, Tyler Jones, Mirador Studios
Joseph Hernandez Hall Dedication Photo Gallery

[ Joseph Hernandez Hall Dedication Photo Gallery ] [ Video: Chemistry Fun with President Fuchs ] [ Video: Interview With Joseph Hernandez ] [ Page Top ]
Former UF President Bernie Machen visited the chemistry labs on campus, he was shocked. He himself had been a chemistry major at Vanderbilt in the 1960s and didn't see much of a difference between those mid-20th century spaces he used as an undergraduate and those he was viewing in the 21st century in Leigh Hall.
"Chemistry has a huge presence on this campus," Machen said. "We have a big, diverse graduate program that is punching all the right buttons. Chemistry is one of our star departments, and they were suffering from poor resources to deliver their mission."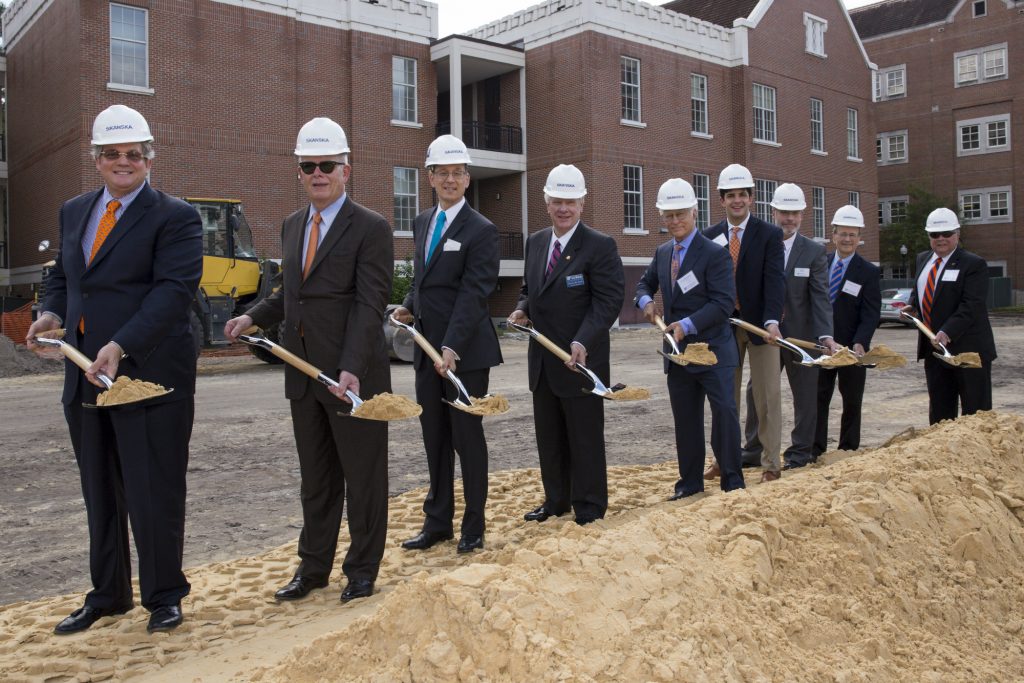 He made it his mission to upgrade the facilities. In 2009, architectural plans for a new building were drawn, and underground utilities infrastructure had been laid. "The problem was," Machen said, "we were in this darned recession. Construction was shutting down everywhere." Indeed, construction on the chemistry building halted in 2010, but resumed in 2014, with the official groundbreaking for the new building taking place October 10, 2014, just two months before Machen retired.
Less than two years later, the striking new chemistry/chemical biology building sits on the corner of Buckman Drive and University Avenue as if it always should have been there. Named Joseph Hernandez Hall, after a generous donor and UF alum, the building's dedication took place on Friday, April 21.
"Chemistry is a symbol for what a 21st-century land-grant university should be. Even on our own campus, people don't realize what a good chemistry department we have. This is a celebration, not just of a building but of a department, not just for what we've done, but for what we're going to do," Machen said.
Dave Richardson, dean of the College of Liberal Arts and Sciences and former chair of the chemistry department, has called the building "magnificent" and "marvelous."
For the complete article, check out http://news.ufl.edu/articles/2017/04/new-chemistry-building-opens-its-doors.php

[ Joseph Hernandez Hall Dedication Photo Gallery ] [ Video: Chemistry Fun with President Fuchs ] [ Video: Interview With Joseph Hernandez ] [ Page Top ]
Chemistry Fun with President Fuchs
[wpdevart_youtube width="720″ height="480″ autoplay="0″ theme="dark" loop_video="1″ enable_fullscreen="0″ show_related="0″ show_popup="0″ thumb_popup_width="213″ thumb_popup_height="128″ show_title="0″ show_youtube_icon="1″ show_annotations="0″ show_progress_bar_color="red" autohide_parameters="1″ set_initial_volume="false" initial_volume="100″ disable_keyboard="0″]EvrNdbHbQnw[/wpdevart_youtube]

[ Joseph Hernandez Hall Dedication Photo Gallery ] [ Video: Chemistry Fun with President Fuchs ] [ Video: Interview With Joseph Hernandez ] [ Page Top ]
Interview with Joseph Hernandez
[wpdevart_youtube width="720″ height="480″ autoplay="0″ theme="dark" loop_video="1″ enable_fullscreen="0″ show_related="0″ show_popup="0″ thumb_popup_width="213″ thumb_popup_height="128″ show_title="0″ show_youtube_icon="1″ show_annotations="0″ show_progress_bar_color="red" autohide_parameters="1″ set_initial_volume="false" initial_volume="100″ disable_keyboard="0″]kcqSn3qOMj0[/wpdevart_youtube]

[ Joseph Hernandez Hall Dedication Photo Gallery ] [ Video: Chemistry Fun with President Fuchs ] [ Video: Interview With Joseph Hernandez ] [ Page Top ]